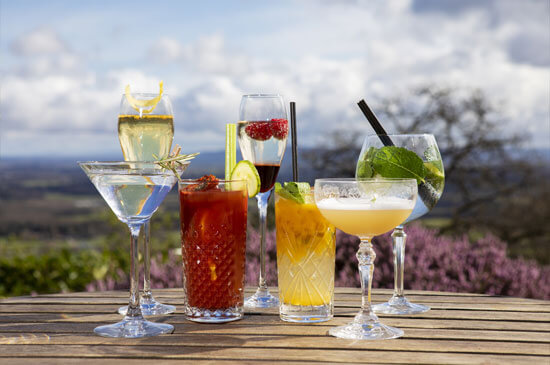 With the warmer weather upon us and outdoor dining within sight, we thought it would be a good time to remind you of our fabulous cocktail menu at The 1919 Restaurant in Malvern. That way when you're sitting out on our sun-soaked terrace, you'll have no difficulty choosing which drink to order. Of course, it's always good to brush up on your mixology, so we've left in some interesting details about each one of our special cocktails. Without further ado, here are 5 cocktails served at our restaurant in Malvern.
Amaretto Sour
A drink that on paper does not sound like it should work but we promise it most certainly does! An Amaretto wouldn't be complete without a Lazzaroni Amaretto of course. We've added a mix of Buffalo trace bourbon, lemon juice and an egg white for that creamy texture.
Seabreeze
It turns out that you no longer have to order an alcoholic cocktail to enjoy yourself! At the 1919 Restaurant in Malvern, we offer a fabulous virgin cocktail that you won't notice anything is missing. Order the Seabreeze cocktail to enjoy a glass of apple, cranberry and lime juice mixed with tasty lemonade.
Negroni
Step into Italy with a classic Negroni served in our outdoor dining area. Made with locally sourced Tarquin's Cornish gin, Campari and Martini Rosso which both give the drink its fiery red colour!
Classic Mojito
Simple, classic and delicious! That's our Mojita summed up in 3 words. We make our Classic Mojito with Havana rum, lime, mint, sugar and sparkling soda. You can't beat the pairing of white rum mixed with sharp lime juice and fresh mint.
Espresso Martini
To end the evening off we have an Espresso Martini. Although you can just as well start the evening with this cocktail, it does work exceptionally well as an after-dinner drink for those not looking to end the night just yet. Our Martini is made with Moskovskaya vodka, a classic Russian vodka, along with Kahlua, a double Espresso and some fine sugar syrup to top it all off.
Spritz Veneziano
If an Espresso Martini is your after-dinner drink, here is the drink to start your night. Another Italian drink you can't go wrong with. If you're into wine-based cocktails this will be the drink for you. Our Spritz Veneziano is created with Aperol, Prosecco and soda water.
====================
Do you have a special occasion coming up soon? We love celebrating special occasions at The Cottage in the Wood Malvern. Whether it's the gift of a stay away, Afternoon Tea or treating someone to a bottle of bubbly in the room, our range of gift vouchers make the perfect presents for anyone you really want to indulge with the good stuff in life. Check our gift vouchers page to know more.