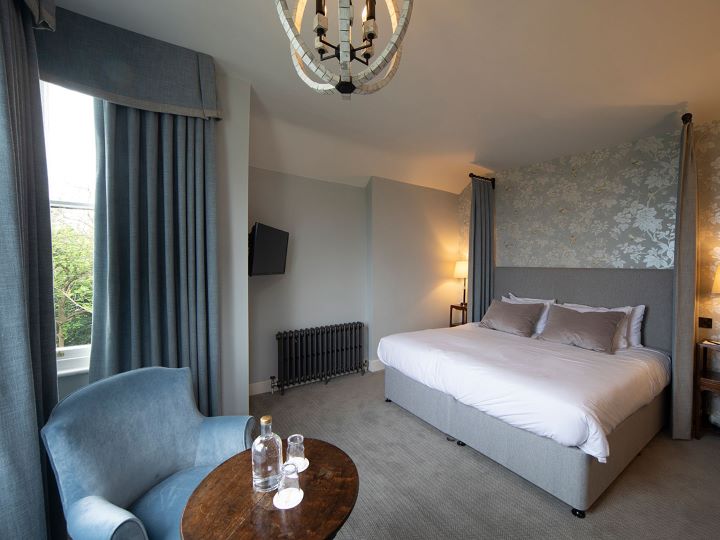 Trying to decide which room to book is not always a simple task. With most hotels in Malvern offering an array of rooms, suites and options to choose from, it can be difficult to decide. Thankfully at The Cottage in the Wood Malvern, we make it easy for you to pick a room. Because whichever room you choose at our hotel in Malvern, you'll be guaranteed an exceptional stay. With 32 bedrooms, we've decided to keep the name of our rooms as simple as can be. All our bedrooms are en suite, with Bramley toiletries, tea and coffee making facilities with fresh milk in the in-room fridge and you'll get freshly baked cookies on arrival no matter which room you choose!
Best Rooms
We weren't kidding when we said we've kept our room names simple. Our Best Rooms are just that – The Best. This room offers you all the good stuff – front facing windows with sweeping views, extra space, Super King size beds and stylish design. The bathrooms are extra spacious and have both walk-in showers and roll top baths, and each room has a working vintage record player with a unique selection of music.
Great Rooms
Our Great Rooms are big, bright and have great views of the Severn Valley. King size beds can be split into Twins if you prefer, and all the rooms have spacious bathrooms with bath-over-shower or walk-in showers. Some rooms have patios with outside seating or a small balcony.
Very Good Rooms
Our very Good Rooms are, you guessed it, very good! They are very spacious and bright, with King Size beds that can also be split if you prefer Twin accommodation. Great for families or those looking for more space. The rooms either overlook the hotel grounds or have peaceful woodland views with some boasting patios with outdoor seating.
Classic Rooms
Size is not everything! Classic rooms are slightly smaller but still pack a punch. King or Queen Size beds, convenient bathrooms with walk-in showers and all the little touches to make your stay extra special are included in a slightly smaller space.
Cosy Rooms
Cosy by name and cosy by nature! Our Cosy Rooms are snug and comfy, with Queen or Small Double Beds. Quirky design and bold colours make these rooms a great option for those looking for the good stuff on a smaller scale! Cosy Rooms overlook the back of our hotel in Malvern, so please note they don't offer the sweeping views of some of our other room types.