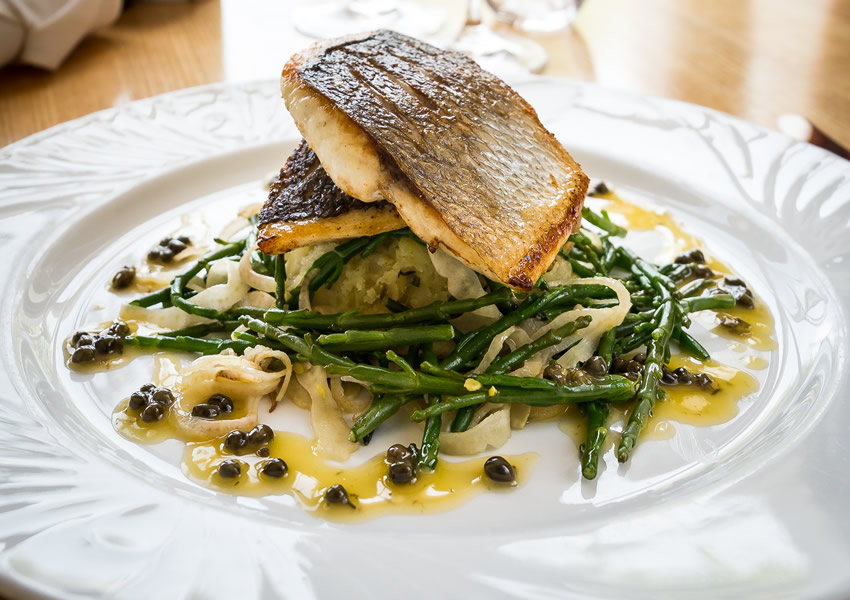 Do you prefer meat or fish? Or maybe something vegetarian?!
The new summer menu at The Cottage in the Wood has been carefully designed so there is something for everyone.
Are you hungry for a good steak? Then the locally sourced single breed and of course top quality Hereford steak served with hand cut, triple cooked chips is sure to satisfy! You can have it with the traditional sauces or go for something a bit different like the Argentinian chimichurri sauce traditionally served with steak and so tasty you will want to jump on a plane straight to Argentina to try it in its home country.
Or are you looking for something a little lighter on a summer's evening? Gilt-head bream served with crushed new potatoes is perfectly delicious. Served with samphire this dish is on the hot list of superfoods. Samphire is packed full of nutrients. Grown on the English coast samphire is the sea's gift to us all – delicious and healthy!
But the most exciting dish on the menu is the garlic & herb polenta with red pepper and borlotti bean cassoulet. The slow roasted garlic gives the polenta a subtle, almost sweet and creamy flavour, which is served in cubes and oven roasted – delicious! This is a dish with a difference and packed full of texture and flavour!
These are just a select few dishes from the new menu.
Additionally, the specials, which change every 2 weeks, celebrate the best in season – this week we're celebrating Evesham Asparagus and Wild Garlic – both local, natural and delicious these ingredients are best enjoyed in May.
To see the full menu and choose what you want to order before you go visit www.cottageinthewood.co.uk/food-drink/1919-restaurant
The Cottage in the Wood,
Call 01684 588860 to reserve your table