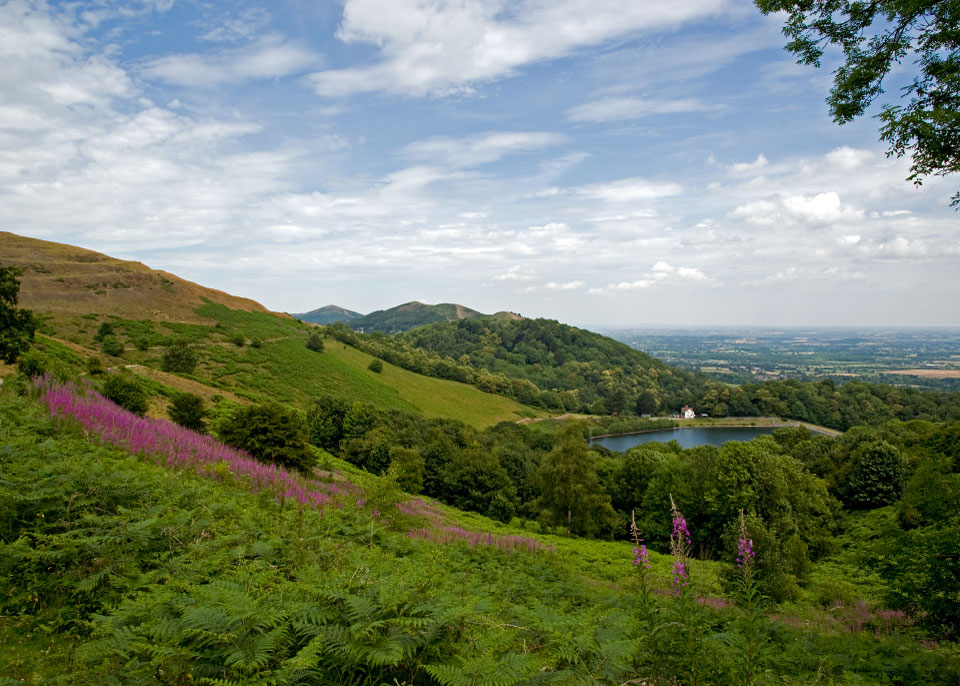 "It is a surprising and memorable, as well as valuable experience, to be lost in the woods any time" – Henry David Thoreau
The Malvern Hills provide the perfect place for walkers of all abilities to escape for a stroll in the fresh air. With an abundance of staggeringly picturesque walks across rolling hills and meadows, the Malverns offer miles of pastures to stretch your legs in the Area of Outstanding Natural Beauty.
Pick up a map from our reception, or why not try the Malvern Walking app, which makes finding the right walk for your ability even easier, and step out into the hills. Here are our top three hand-picked walking routes:
Figure of eight through Hollybush
Beginning in the sleepy hamlet of Hollybush, just a 15-minute drive from The Cottage in the Wood, this trail can be walked in two directions due to its figure of eight route, reaching both Midsummer Hill and Raggedstone Hill. Traverse through leafy woodland, before surmounting each hill to enjoy spectacular views over a sea of trees, green fallows and beyond. Craggy rocks pepper the landscape on this route, however the gentle incline along farm roads and well-trodden paths means this walk can be enjoyed by less-confident and experienced ramblers alike.
Along the ridge of the Malvern Hills
For more serious hikers, take on the route from one end of the Malvern hills to the other and almost walk right past the hotel's front door. Distancing just under 10 miles, the walk follows the various summits along the top of the Malvern ridge, affording spectacular views over the counties of Herefordshire to the West and Worcestershire to the East. Stroll through vast fields of bluebells on the descent and then scale the rocky peaks of both Worcestershire and Herefordshire beacon. Perfect for nature lovers, explore the surrounding wildlife of Malvern, spotting woodland flora and wildlife as you go including some of Britain's rarest butterflies.
Through the historic hillside town of Great Malvern
For those with less ability to traverse the hills, Great Malvern offers the perfect place to leisurely explore on a quiet afternoon.
Take in the many historic buildings found around Great Malvern, including the grand Great Malvern Priory, a former Benedictine monastery dating back to the 11th Century, or the Priory Park featuring an ornate bridge and classic bandstand. The park also has a selection of the town's famous Victorian gas lamps that are said to have inspired C.S. Lewis's magical 'Chronicles of Narnia'.
Amble past the array of antique dealers or peruse the bookshops that line the high street. Why not stop at the Elgar statue and Enigma Fountain designed by local artist Rose Garrard to celebrate the life and work of the classical composer who was greatly inspired by the Malverns.