Silviu Dinu is the newly appointment General Manager at The Cottage in the Wood Malvern, bringing with him a wealth of experience from some of the UK's top establishments, including Whatley Manor and Dormy House Hotel in the Cotswolds. 
Let's get to know more about our General Manager in the Q&A below.
Tell us a little bit about yourself.
I was born in Romania, I am married with two young children aged 1.5 and 3.5 years. I spend most of my free time with my family. We love going on walks and spending time outdoors. Having lived near The Cottage in the Wood Malvern for many years, it's the perfect location to spend time in nature! I'm also a keen cycler, and often venture to the Malvern Hills with friends on our bikes, and I used to play semi-professional football for 12 years. Let's say I like to keep active!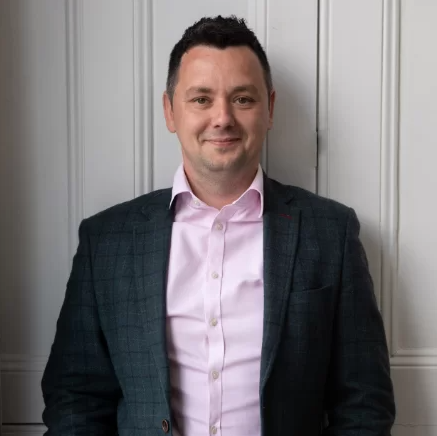 Have you been working in the hospitality industry for long?
I've worked in the hospitality industry in the UK since 2005, from F&B Manager to Deputy General Manager and this is my first General Manager role! I've been fortunate enough to work in hotels including Calcot Manor, Whatley Manor and Dormy House, and I'm looking forward to bringing my experience into my new role as General Manager at The Cottage in the Wood Malvern.
I actually started working in hospitality originally in Bucharest. I was influenced by a family friend who was close to a dad to me, very much a mentor, he was a Hotelier himself with an amazing career. So that's where I started, as a waiter in 2002 in Bucharest.
What is your management style?
I like to get things done, but I also like to have fun along the way. I am all about give and take. It's important for staff and guests to have a nice environment. I am not shouty at all, I think it's unproductive and instead I promote mutual respect. We work as a team.
What made you want to work at The Cottage in the Wood Malvern?
When I met with the owners of the hotel, I found them and their vision completely inspirational. I was at a position in my own career where I was ready for a new challenge, and being offered my first General Manager role for such a wonderful hotel was fantastic. I love the feel of the hotel, the style and the ethos. Being independently owned and run, I couldn't wait to work in a hotel which puts so much emphasis on the guest experience. We know who we are and we know where we are going, and that's really exciting.
What do you think will be your biggest challenge in your new role?
In the immediate term, my biggest challenge is going to be starting the new role at such a busy time for the hotel, and the hospitality industry. After such a difficult 18 months, our guests couldn't wait to come back and stay, and we've welcomed lots of new guests who are escaping the city! We are going to have a very busy summer, and it's no secret that employment in the industry has faced challenges.
I am a very hands on manager though, I don't like to sit in the office – you'll always see me around the hotel working with the team and welcoming guests. I'm always happy to lend a hand where I can – although don't worry you won't find me in the kitchen! Guest experience is our top priority.
What is your vision and ambitions for The Cottage in the Wood Malvern?
Everything is about the guest. The number one ambition is to consistently deliver an experience where guests leave the hotel feeling relaxed and longing to return because they've had such a good value experience, the accolades will follow.
To know more about our new head chef, visit this article on the boutiquehotelier.com website: https://www.boutiquehotelier.com/the-cottage-in-the-wood-welcomes-new-general-manager-and-head-chef/.