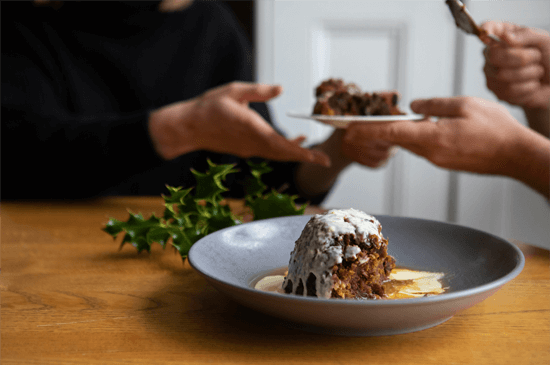 Hello! Today we are going to be getting into the festive spirit.
The chefs here at The Cottage in the Wood Malvern are ticking off one less thing to worry about on the Christmas table – The Christmas Pudding. The original 'make ahead dessert', the Christmas Pudding is best if made ahead and allowed to mature before the big day – with lots of opportunities to 'feed' it alcohol to make it extra boozy!
1919 Restaurant's Sous Chef Henry Thorn has made a head start preparing the time-honoured favourite, also known as plum pudding or figgy pudding – a stout tradition, worth setting fire to.
In this video, Henry shows you how to stir-up a classically quirky Christmas pudding as he prepares the special sweet treats the hotel will include in this year's Christmas hampers.
Henry's take on the classic recipe is filled to the brim with local ingredients, soaked in spirits made in Worcestershire. The secret boozy ingredients include Chase Marmalade Vodka, made in nearby Hereford, which adds a beautifully bittersweet taste, with hints of orange made with thick-cut marmalade. Another local favourite, Severnside Stout, is also added for depth of colour and flavour, brewed with a complex blend of six different malts including chocolate and smoked malts.
Henry says: "Nothing says Christmas like a flaming figgy pudding, and this year we are getting in early to make sure our puddings are filled to the brim with local goodness. I hope lots of people get inspired to get into the spirit and start making their puddings, too!"
Once Henry has stirred up the pudding, he then calls on other members of the team to get involved with the stirring in accordance with the Stir Up Sunday tradition. Believed to have started in Victorian times, Stir it up Sunday would see families come together to get their fruit puddings stirred up, steamed and stored ahead of Christmas. Each family member would take a turn to give the ingredients a good mix and make a wish. This signalled the start of the festive season.
Watch Henry prepare the Christmas Pudding here and follow the recipe to make your own Christmas pudding.
Alternatively, you could take all the worry out of Christmas and book in for your 3-night stay including drinks, carols and dinner on Christmas Eve, a five-course gourmet Christmas lunch, live music on boxing day and of course you will get one of Henry's famous Christmas puddings to take home with you.
Christmas at The Cottage in the Wood Malvern is truly special, and the Christmas Puddings are, too. For more information about the festive breaks available, click
here
.