Looking to bring your four-legged friend along on your next holiday? Whether it's a mid-week stay or a weekend getaway, you and your best friend can't go wrong at The Cottage in the Wood. A dog-friendly hotel in Malvern you can always count on.
While booking, make sure to notify us so we can secure a pet-friendly room for you, as not all of our rooms are available for pets.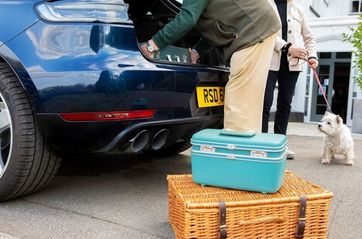 To avoid disappointment, please do ensure you contact us beforehand. Please also keep in mind that although pets are allowed in designated rooms, they are not allowed in the main house, restaurant, bar or lounge.
Don't worry though, you can always bring your pet along to enjoy our array of outdoor seating available. We're sure your dog won't mind joining you for a meal or drink out on our terrace! If you'd prefer to leave them in your room, not to worry as our rooms are just as comfortable for our guests as they are for pets.
We understand that many of our guests and their pets are inseparable and so we'd hate for you to have to leave your best-friend at home. Which is precisely why we chose to ensure our hotel in Malvern is dog-friendly! Not to mention, that the Malvern Hills host some of the finest dog walks around. Bringing your dog along for your stay will guarantee that you make the most of the outdoors. From the Jubilee Hill walk to the Worcestershire Beacon ramble, there are a plethora of adventures and activities ready for you and your pet to take on. You can visit our Top 5 Walks in Malvern Hills blog to view a full list of our favourite walks in the area.
You can click here to book your stay at our dog-friendly hotel in Malvern. We hope to welcome you and your pet soon – don't forget your walking boots!