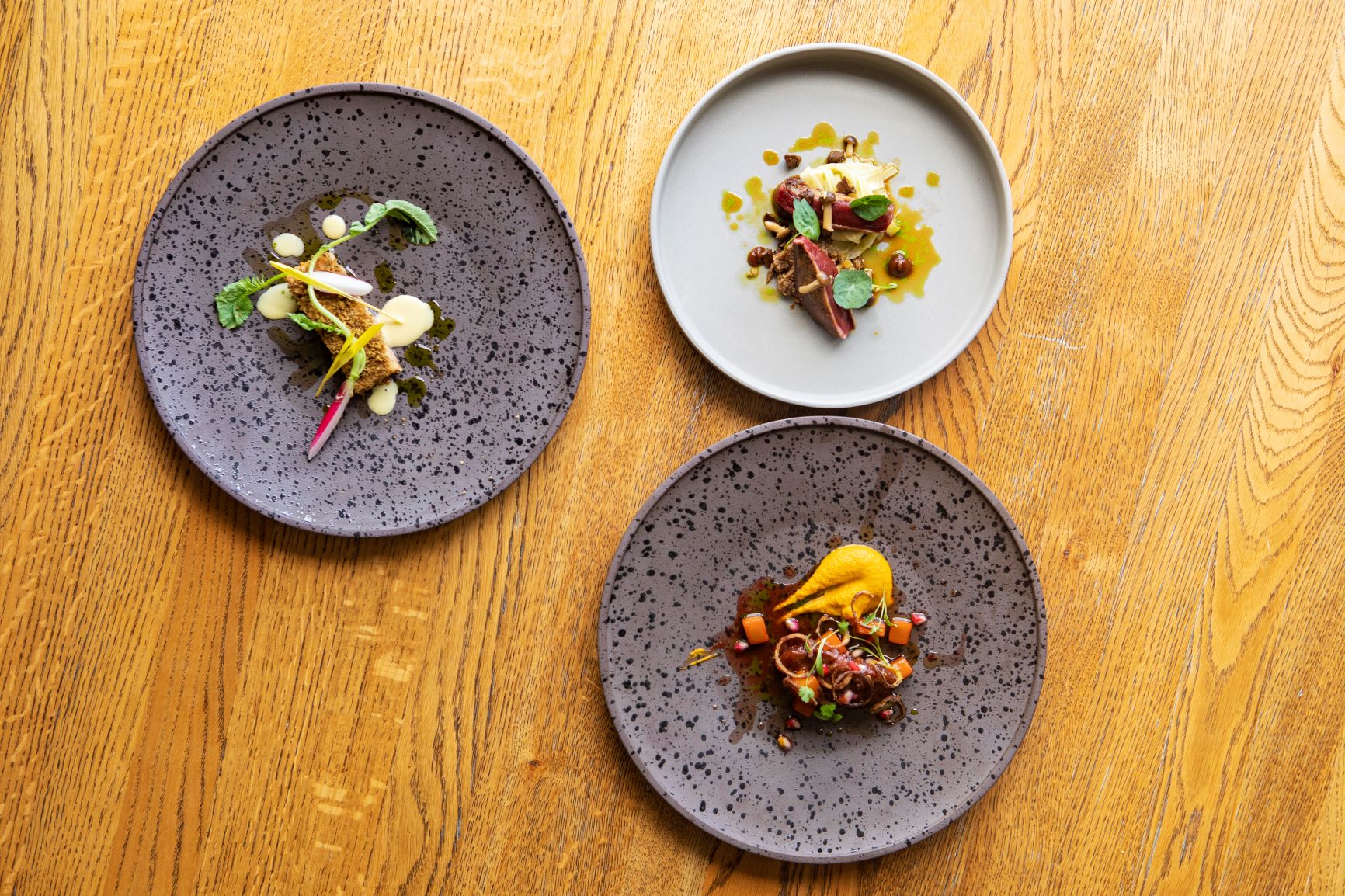 Our newly-launched autumn menu has arrived at 1919, offering fresh, locally-sourced dishes with hearty flavours inspired by the seasons. We spoke to our head chef, Mark Redwood, to find out more about his inspiration behind the menu, and what his favourite ingredients to use are at this time of year.
What is your favourite dish on the new autumn menu?
The barbeque Guinea Fowl is my favourite dish because of the smoky flavour. It's a simple dish with lots of elements, tying in with our ethos of allowing the ingredients to speak for themselves rather than overcomplicating the plates.
What is your favourite seasonal ingredient?
Game meats are a great seasonal ingredient for the colder months due to its rich flavour that matches with the season as the weather changes, like venison, and pheasant when it's in season. I also love squash and other root vegetables as they're versatile for a variety of dishes.
Talk us through three of the dishes on the menu?
Barbeque Guinea Fowl: The barbeque guinea fowl was inspired by Indian spices, and we all like an Indian takeaway. We use modern techniques to break down the legs to put in a terrine, then marinate the guinea fowl in a tandoori spice mix, which is then BBQed for a smoky flavour.
Venison Saddle: The venison saddle is accompanied by a carbonara that replaces traditional pasta with a celeriac linguine to add an alternative texture and wintrier flavour to accompany the venison. A sweet and sour balance is created through the sweetness of roast pears and the acidity of an Oxford sauce, made from redcurrant jelly, spices, Dijon mustard and shallots. As we purchase the whole deer from the butcher, we break down the haunch to create a venison fritter on the dish. The haunch is also used for a venison ragu on the lunch menu, and bones for our meat stocks.
Pork Loin: Our pork loin is water bathed in beef fat, then seared to ensure caramelisation. We burn and dehydrate onions and mix it with dehydrated mustard to create a powder that coats the salsify. An onion and ale puree adds richness and the burnt apple adds sweetness. Pickled mustard seeds top it off with crunch and an element of sourness.
How do the flavours differ on your menu from other seasons?
Our flavours are a lot more hearty in the winter, with richer elements like our signature 'The Cottage Pie', taking centre stage on our menu.
Do you use some techniques more frequently in autumn?
We use a lot more braising and slow cooking, due to the meats that we use being heavier. The 'Slow Braised Pig Cheek' starter is cooked for several hours to render down the meat, making it melt in the mouth. Similarly, the beef shin in 'The Cottage Pie' is cooked down slowly to tenderise it.
Are there any homegrown or foraged ingredients on the menu?
We use a combination of foraged blackberries and cobnuts throughout our dishes, alongside homegrown pears that are paired with the 'Venison Saddle'.
Discover the full menu here or book a table for dinner by calling 01684 588860.